Netflix has a wide range of movies and TV shows. When you compare streaming channels such as Amazon Prime Video, Hulu, Netflix, etc, Netflix tops the list in terms of a number of movies and shows.
Netflix is the house of many international movies. There are Hindi, Arabic, German, Russian, Portuguese, French, Turkish and Dutch movies available to watch right away!
Movies like Titanic, La La Land, Twilight, The fault in our stars, The Great Gatsby, and other classic romantic movies are not available on Netflix. If you want to watch them you have to buy a Netflix DVD subscription. Here you can rent any movie and the DVD's will be sent out via mail with free shipping charges. In these OTT times, this system looks outdated but there are few people who would love to have a Cinema experience in a classic way.
One drawback with Netflix Movies is, I don't like when movies leave Netflix. As per the Netflix team, they don't revise contract with the movies production team that is why some movies stay for really a short amount of time.
Hence if your favorite movie is available, watch it right away! Because you will never know when it disappears from the list.
Here are the 10 Best Romantic Movies from Netflix;
1) To All The Boys I Loved Before
"To All The Boys I Loved Before" is a romantic comedy movie available on Netflix. Story of a teenager who writes letters to her past lovers. Lara, a 16-year teenager living in her fantasy world, spending her time reading romantic books & watching movies, one day decides to write a letter to her past lovers. The boys respond one after the other to Lara's love letters, disturbing her peaceful life.
To All The Boys I Loved Before is a complete teenager film set in 2018. Facts like Instagram stories are quite relatable in today's world. It feels slow-paced after some time but the movie is delightful.
2) Remember Me
Love can heal any scars. Love gives a reason to live. Love makes your life refreshing and beautiful. Tyler suffering from his own troubles thinks that there is nobody in this world who can understand his pain. But one day he meets pretty Ally who changes his life for good. She cares for him, understands his pain, makes him strong to face his struggles and overcome them. Their romance fills the screen making it adorable to watch.
Twilight star Robert Pattinson steals your heart with his acting. The film is a little confusing when it unfolds in scenes but Remember Me is beautifully crafted with the story of two beautiful souls.
3) A Walk To Remember
There are very few movies that succeed to stay forever in people's hearts. A Walk to remember is one such movie, making you fall in love every time you watch the movie. It's a story of a teenage girl and boy who are totally different from each other. They fall in love with each other and show the world how to keep promises when you truly love someone.
Based on the best selling novel of Nicholas Spark, A walk to remember is a classic romantic movie to watch before the world ends! Mandy Moore looks too cute making it feel pure and romantic.
4) About Time
About time is a British romantic comedy movie that blends the concept of time travel and romance in a beautiful way. Tim Lake's family has a superpower of time traveling. When he discovers this secret from his father he uses that power to get him a girlfriend and win her heart by time-traveling as and when needed. Does he able to keep this secret from his girlfriend? Will they live happily ever after? Answers have to be found out by watching the movie.
'About Time' keeps you hooked up throughout the movie with its engaging plot, graceful acting, and screenplay.
5) Holidate
Their holidays became boring because they were single throughout. They both are fed up with this being-single life hence they decide to spend their time with each other. Being strangers they start being with each other and after an year discover their real feelings.
Holidate is a simple, romantic plot available to watch on Netflix. The story is quite predictable but it is cute to watch two adorable people sharing their space. If you are looking for anything but romance then Holidate is for you!
6) The Kissing Booth
The Kissing Booth on Netflix is all about teen romance. It highlights the feelings, emotions that every girl and boy face during their teen days. Elle discovers that she has secret crush on Noah, who is also a brother of her best friend. Elle can't chose her heart over friendship because of the strong bonding with her best friend. Story continues highlighting Elle's dilemma, friendship between Elle & Lee, and the Kissing booth project.
The Kissing Booth consists of young and cute casting hence the whole movie is adorable to watch on the screen. There are two sequels to this movie, The kissing booth 3 is available to watch on Netflix.
7) Sir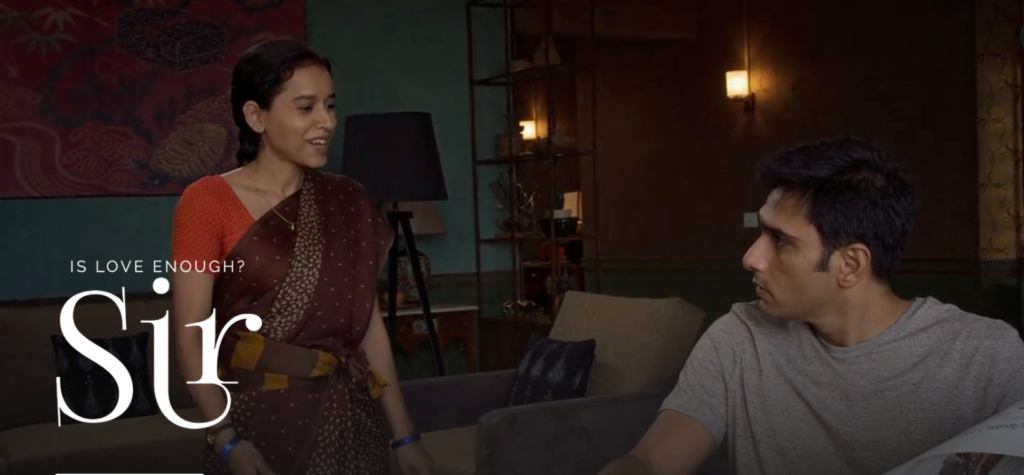 Sir is a Hindi language film, available on Netflix to watch with English subtitles. He is a rich businessman and she is a maid working in his house. He is divorced, living his lonely life and she is a widower, struggling to earn her bread and butter. Along with doing the house chores, she cares for him which makes him fall in love with her. But society fails to understand the real connection between the maid and the house owner.
Screenplay of the movie is so real that there is nothing fancy or drama in this movie. It is a simple, unique love saga that definitely steals your heart.
8) Irreplaceable You
After knowing that she has cancer, she decides to plan his whole future so that he can easily live without her. She may find a perfect girl who can understand him just like she does but the connection or love that exists between them cannot be replaced by anyone. They have a beautiful bonding that cannot be replaced.
Irreplaceable is one of the heart touching love stories that will definitely make you weep every time you watch the movie.
9) After We Collided
Hardin is one angry young man who can blast at anybody. However Tessa falls in love with him even after knowing that he can be really cruel. But one day Hardin's secrets were out making Tessa to rethink about her decision. She is ready to move on but Hardin won't give up that easily!
After we collided is a story of two young adults that highlights the real problems faced in any relationship.
10) The Perks of being a wallflower
Charlie is a socially awkward, introvert teen who couldn't experience much from his life because of his shyness. He is living his lonely life until he meets Sam and her stepbrother Patrick. They both are free spirited, full of life, energetic, hence they decide to teach Charlie everything he should experience as a teen. With their help, Charlie discovers the joys of friendship, first love, music and more..
The perks of being a wallflower is not entirely a romantic story but it has flavors of first love, beauty of friendship, living life and everything we need in our life.