After the pandemic, many Kannada movies have been directly released on Amazon Prime Video making it one of the biggest OTT platforms for South Indian Cinemas. Now it has become a tradition to wait for the movie to release on Amazon even though movies are getting released in theatres. From blockbuster Kannada movies such as KGF and Kantara to underrated movies such as ACT 1978, Amazon has everything for you! Here is the list of the top 30 Kannada movies (not in order!) on Amazon Prime.
1) Kantara (2022)
When released on 30th September 2022, nobody expected that Kantara would make this big. Kantara movie once again proved that content is king. Kantara had everything in its basket. The cinematography, Rishab Shetty's acting skills, Storytelling, songs, and every aspect that is required to be a successful movie. And most importantly the way our culture and traditions have been upheld in the movie.
Kantara means dense forest that has mystical powers. This movie is about the conflict between nature and evil men. Shiva is grown up in a village where they follow Kambala and Bhootha Kola and believe in the supreme power of god. When their rituals and beliefs were questioned by the forest department they fight against the government to save their land. But the leader whom they believed in, betray them but god has his own plans for him. Kantara is a visual treat and one of the must watch movie in the history of Indian cinema.
2) KGF (2022)
Finally they released KGF 2 after the long wait of three and half years. After the success of KGF 1 people were eagerly waiting for the chapter two. It got stretched because of the effects of pandemic on cinemas.
KGF movie is about the Kolar Gold Fields where they mine the gold and every other person on earth wants to be the king of gold. Rocky, a poor orphan guy, is an underdog in the Mumbai who also dreams of KGF. But KGF is not an easy place to enter. However Rocky makes his moves, kills Garuda and takes in charge of KGF. That was the end of Chapter 1. In Chapter 2, Rocky ruling KGF but he has enemies everywhere. Even the government is trying to tackle him. Bollywood people Sanjay Datt and Raveen aTandan have entered the film cast while actor Ananth Nag's voice has been replaced by Prakash Rai. How will Rocky save his people and KGF? Will KGF 3 maintain its swag when it gets released? We have to wait and see.
3) Yuvarathna (2021)
This mention is mainly because of the love towards Puneeth Rajkumar. This was his last his movie that was released before his dismissal. That is why it holds a special place in the heart of every Kannadiga. Though Gandhada Gudi is officially his last movie but Yuvarathna was released when Appu was still here. Yuvarathna focuses on privatisation of education and the political play behind it. Young principal from a very reputed college goes above his limits to save his college from the privatisation. One thing to mention about the film casting is that you can literally see every artist from the Kannada film industry.
4) Seetharaam Benoy: Case No.18 (2021)
An inspector named 'Seetharam' (Vijay Raghavendra in the lead role) gets transferred to a remote village in the Shimoga district. Though it is a very small town, many robberies were going on a day to day basis. When Seetharam takes charge, he notices weird connection between the robberies. When Theives sense of his investigation they kill his wife to send him a message. But that won't stop him. Seetharam Benoy case number eighteen is one of the interesting crime thriller Kannada movie on prime you would love to watch.
5) Rathnan Prapancha (2021)
The Kannada actor Dhananjaya, who is known has Dolly for his villain role in the movie 'Tagaru' has finally succeeded to impress audience with his lead role in the movie Rathnan Prapancha. This movie is all about the mother-son bond. Umashree as the mother of Ratnakara has done an outstanding job (as usual!). Ratnakar, son of Saroja gets to know that he was adopted. Though Saroja loves him unconditionally he leaves her to see his biological mother. He searches for her, goes as far as he could, tries to find the connection that could lead him to her while Saroja waits patiently for him to come back. One of the emotional drama, worth watching with family, Rathnan Prapancha will surely make your eyes wet.
6) ACT 1978 (2020)
Story of a pregnant woman who fights against all the odds to get her money sanctioned by the government. Before taking this decision she had tried several times to get the money in a legal way but her efforts didn't work because the authorities ask for a bribe. The movie takes a different twist when Geetha goes against the law. This movie might remind you of the Hindi movie Kahani but both movies are completely different. The film consists of a huge casting including Yagna Shetty, B.Suresha, Pramod Shetty, Achyut Kumar, H.G Dattatreya, Shruti, Sudha Belawadi, Avinash, Sanchari Vijay, and others.
7) Ondu Shikariya Kathe (2020)
He is a famous novelist who has never tortured a single animal or person in his entire life. To keep the promise to his father, one day he takes the gun and goes hunting. A series of events take place and he has to face every odd that comes his way. Not just his but many lives get altered because of his one single decision. 'Ondu Shikariya Kathe' means 'Story of one hunting'. The story may seem slow and pale but it is crafted in a very sensitive way that starts the debate between right and wrong.
8) Bheemasena Nalamaharaja (2020)
Nala Maharaja is a mythology character who is a well-known chef. Director Kartik Saragur used this concept in his movie Bheemasena Nalamaharaja and gave the same name to the film. There are six main characters in the movies representing the six areas of taste. The main actor is the chef in a hotel and the girl who comes to stay in that hotel narrates his love story. The movie has a beautiful twist in the end and that's what makes the film a must-watch!
9) KavaluDari (2019)
A mystery thriller movie that revolves around the investigation of a murder that happened 40 years ago. K.S. Shyam (Role played by Rishi) digs this case who is a traffic policer to prove himself to his higher authorities. As he starts investigating on his own one leads to another, revealing something big that no one had expected. The story takes interesting turns and makes you glued to the story until the climax. Veteran actor Anant Nag and the talented actor Achyut Kumar have given their best performance in the movie.
10) Love Mocktail (2022)
When 'Love Mocktail was released in theatre it didn't gain much traction because it is made by the newbies in the film industry. During the lockdown, Love Mocktail was released on prime and instantly gained an audience because of the cute love story. Love Mocktail is a simple love story presented in a very simple way but it touches every heart. Darling Krishna and Milan Nagraj are in the lead roles are the makers of this movie and couple in real life. After huge success in Prime, the 'Love Mocktail' team decided to re-release the movie in the theatres. Now Love Mocktail 2 is also available on Prime. It is not as good as as the first movie but the way Darling Krishna carried the story, composition of songs, locations shown in the movie are really appreciable.
11) Mayabazar (2016)
Mayabazar 2016 is a crime comedy Kannada movie starring Raj B Shetty, Vasistha Simha, Achyut Kumar, Sudha Rani, and others. Crafted on the concept of demonetization, Mayabazar 2016 revolves around four people who cross their path because of money. The story is easily predictable but the way it is presented in front of the audience is quite brilliant.
12) 99 (2019)
This movie is the remake of the Tamil movie '96' (Though the same movie was remade in Tamil as '99'). Starring Ganesh and Bhavana, 99 is a beautiful romantic drama that takes you back to your school days and first love. Though they had mutual feelings for each other during school days, they never shared them openly with each other. As life continues they get separated and different events take place altering their whole life! One day they meet again and as they start speaking they realize what they have missed in their life.
13) Maara (2021)
Maara is the adaptation of the Telugu movie 'Charlie' starring R Madhavan and Shraddha Srinath. It is basically a Tamil movie but released in Kannada as well. Maara, who flows like the wind attracts every person whom he meets with his kind heart. Parvathy lands in a room that was once occupied by Maara, full of his art and other stuff. She gets impressed with their personality and goes in search of Maara. She meets everyone whom Maara has met, and goes to every place where Maara has been but fails to find him. The story shows the power of true love, greeneries, and locations shown in the movie are feasts to the eyes.
14) Dia (2020)
Can love happen twice? If it happens can you quickly forget the first love? Dia movie is all about a crush, first love, second love, and the breakup! Dia had a crush on her senior Rohit but fails to express her feelings because of her introverted nature. Fate brings them together again, this time making them fall in love with each other. However, when Dia gets to know about Rohit's accident she becomes depressed with life. Now Adi enters her life to cheer her, to bring back her to life. This makes Dia fall in love again! But life was never fair to her! Dia is a slow-paced movie that might seem boring but the movie is full of emotions and sweet innocent love.
15) Malgudi Days (2020)
After announcing retirement from writing, a well-known writer, Lakshmi Narayana Malgudi, decides to visit the place, Malgudi, where he spent his childhood. Another young woman joins him on this journey and they share their stories on the way. Malgudi explains about his first love that happened during school days and how they separated because of the communal tension in the Malgudi village. Now he hopes to meet his love and visit every place in Malgudi that reminds him of his childhood. Vijay Raghavendra has given his best while performing both roles as a young and as an aged man.
16) Birbal Trilogy Case 1: Finding Vajramuni (2019)
One Kannada movie that has tried many latest technologies. It has an 8D song, scribble effect, uses the Roshomon technique and it is the first movie for which VFX has been done in Canada. Birbal Trilogy is a crime thriller Kannada movie that revolves around a murder investigation. One night, a cab driver was murdered on the street while driving his cab but nobody has seen the murderer or the crime. An intelligent lawyer takes this case to help the innocent who has been framed by the police. The movie gets interesting as he opens the case and starts collecting minor details even though there is no evidence or eyewitness.
17) Soorarai Pottru (2020)
Originally in Tamil as Soorarai Pottru, has been released with Kannada audio at the same time. The story of the movie is partly based on the life story of the Air Deccan founder G.R.Gopinath. The movie highlights his struggles to start an airline company exclusively for middle-class families and the financial struggles he faces along the way. Soorarai Pottru is one of ten Indian films to be screened under the Best Foreign Film category at the 78th Golden Globe Awards.
18) Avane Srimannarayana (2019)
Avane Srimannarayana won the best action direction/stunt award at the National Film Awards 2019. The unique screenplay and the wordplay used in the movie make the movie Avane Srimannarayana worth watching! The story is all about finding missing treasure. A not-so-serious police inspector is in charge of this case and gets involved with the Abhiras while investigating the case. The movie is a comedy-drama that has many stories and every story is connected to the missing treasure. The soundtrack of 'Avane Srimannarayana' became instantly hit, especially the song 'Hands up..' sung by Vijay Prakash.
19) Chambal (2019)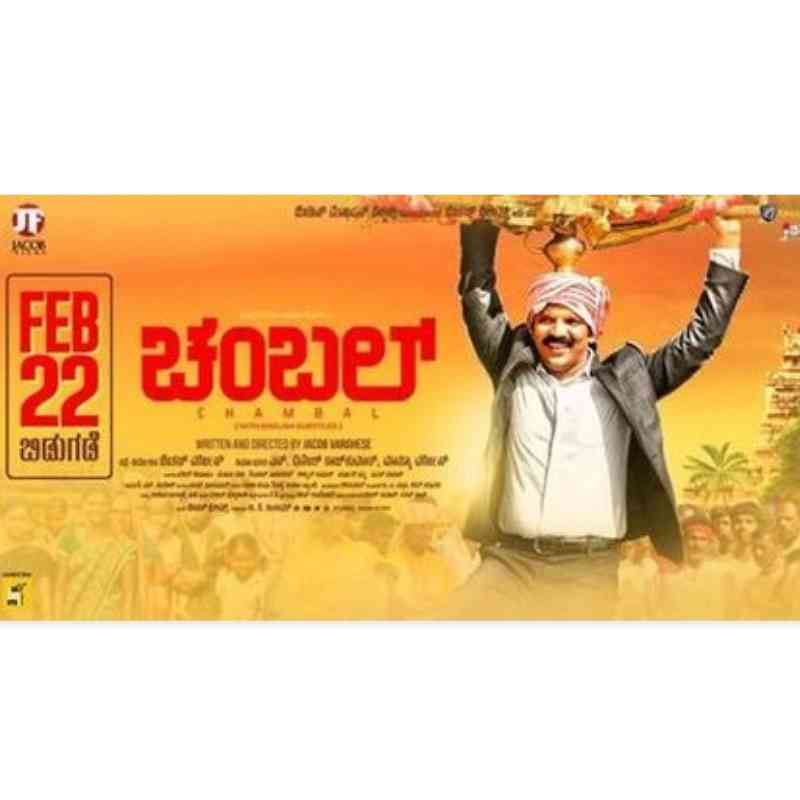 Based on the life story of DK Ravi, Chambal is one of the best Kannada movies that showcase what exactly happened to the deputy commissioner who served in Kolar, Karnataka. How he was killed by the government for his fearless work and how the incident is intelligently hidden from the public eye. Sathish Ninasam portrays the role of DK Ravi in the movie Chambal. You don't see much drama in the movie because the intention of the movie is to highlight the truth and a series of incidents that happened before the death of DK Ravi.
20) Nanna Prakara (2019)
'Nanna Prakara' is an interesting crime thriller that shows the story from different points of view. Two friends of a young woman who visit a police station to report her as missing end up finding her dead in an accident. Her boyfriend was questioned and investigated as part of this case but the police officer Ashok (Kishore) discovers interesting findings during the investigation. The casting Pryamani, Kishore, Mayuri, and others have given their best performance. 'Nanna Prakara' is a must-watch Kannada movie for people who love mystery and crime thrillers.
21) GantuMoote (2019)
When the 'Gantu Moote' trailer was released audience became instantly curious after listening to the rich and beautiful Kannada used in the movie. The story is about Highschool teenagers falling in love with each other. The story is narrated from the girl's point of view, she explains every emotion and feeling in detail. The movie touches the heart with its innocent and detailed narration which is the highlight of the movie. 'Gantu Moote' has been nominated for many film awards and won the Best Screenplay Award at the New York Indian Film Festival, thus becoming the first Kannada movie to win at New York Indian Film Festival.
22) Ammachi Yemba Nenapu (2018)
Three short stories by the famous writer Vaidehi are blended together to make the beautiful Kannada movie 'Ammachi Yemba Nenapu'. It is the story of three women who had to face life against their wishes because of society's odds. It's a classical movie showcasing the real struggles of women who were forced to obey the norms of society making their lives bitter. The cinematography and screenplay of the movie are very beautiful that makes you fall in love with the characters.
23) Krishna Tulasi (2018)
Krishna Tulasi is a romantic Kannada movie with Sanchari Vijay and Meghashree in the lead roles. Krishna, a blind person moves to the new city of Mysuru to pursue his newly acclaimed job. He travels to his work location daily by bus and while doing so he meets the girl Tulasi. They become friends and start sharing their feelings with each other. Krishna hesitates to express his love to Tulasi thinking about his blindness without knowing what Tulasi was going through! The movie has an interesting twist at the end that makes the story more beautiful.
24) Katha Sangama (2019)
Katha Sangama is a Kannada anthology film that is made of seven short stories. The movie is made up of seven directors (One for each story), seven cinematographers, musicians, and editors. Katha Sangama is a tribute to the legendary director 'Puttanna Kanagal crafted similarly to his movie 'Katha Sangama' released in 1976. The first story is 'Rainbow land' is about a father who is trying to build rainbow land for his daughter. The Second Story 'Sathya Katha Prasanga' is about a retired officer, Third story 'Girgitle', is based on the concept of time travel. The fourth story Uttara is about a selfish TV channel editor. The fifth story revolves around 'Padavaralli' and the pre-independence era. Sixth story 'Sagar Sangama' highlights people's mentality and judgemental thoughts based on appearance. The seventh story, the most beautiful story from the bunch is about a villager 'Lachavva' who gets lost in Bengaluru because of the lack of an address.
25) Alidu Ulidavaru (2019)
Starring Atul Kulkarni, Ashu Bedra, and Pawan Kumar, Alidu Ulidavaru is a Kannada psychological thriller movie with a pinch of horror. In this movie, a well-known TV anchor who is famous for breaking the superstitious concepts in his live show goes to a house that is labeled as 'haunted by the ghost'. The movie has rich visuals and horror elements and has succeeded to give goosebumps to the audience.
26) Thurthu Nirgamana (2022)
Thurthu Nirgamana tells us to look at life differently and how small things matter the most. They have experimented a new concept which we usually see in the Hollywood movies or fantasy books. In this movie, a young boy named Vikram gets a chance to relive his life for three days. These three days are counting to his death day so he must utilise them in a better way. Sunil Rao is known for his acting skills has done excellent job along with the legendary actors Achyuth Kumar and Sudha Rani. It is a fell good movie with not much work to your brain or eyes so you will enjoy the movie whole heartedly.
27) Ondalla Eradalla (2018)
The director of the movie 'Rama Rama Re', Ondalla Eradalla is all about innocence. Sameer, a seven-year-old boy loses his cow 'Banu' which has been his dearest pet to him. He goes in search of the cow and meets many people on his way. The story continues with his search and new discoveries that make him wonder. Ondalla Eradalla is the best Kannada movie to watch with family and children.
28) Katheyondu Shuruvagide (2018)
In 'Katheyondu Shuruvagide' movie, Resort owner, Tarun has been dealing with his own disappointments, struggles, and failures and thus having a rough time overall. During this time, Tanya comes as a guest to this resort and they start developing a bond with each other. Katheyondu Shuruvagide is a simple subtle story with no action or drama but the beautiful narration, colorful sceneries, and mature performance by Digant make the movie a must-watch Kannada movie!
29) French Biriyani (2020)
What happens when French people try making Biriyani? It turns out exactly like this movie! Famous RJ and multitalented Danish Sait's second movie, French Biriyani was released on Amazon Prime. Under PRK productions, French Biriyani is the story of a French guy who lands in Bengaluru for his drug business and meets the Rikshawala Azgar (Danish). Unknowingly Azgar gets involved in this case making it a whole mess! French Biriyani is a full meal of comedy that takes you on a funny laughter ride.
30) Law (2020)
Law was the first Kannada film that was directly released on the OTT platform during the lockdown. Starring Ragini Prajwal, Law movie is about a law graduate girl who fights her own case in court. Proclaiming herself a gang-rape victim, Nandini fights with evidence and detailed argument. The three accused being the sons of powerful and corrupt politicians face the trial. There was a parallel investigation to find out the truth that reveals a few surprising facts.